We handle all technical and infrastructural requirements for you.
We take security very serious; our security experts created a "fort knox" for you. We using state-of-the-art technologies to authenticate the identity of users. In this way we avoid the unauthorised use of personal data.
Encryption of data in transfer
With client side SSL certificates
On-demand real-time access
Without data duplication on our servers
We use standard oAuth2
authorisation model
The MEDrecord platform is certified for:
1. MedMij
The aim of MedMij is to stimulate electronic information exchange between patients and caregivers. Caregivers generally have access to software applications to help them support their work in treating patients. Software applications for patients are evolving as we speak, but patients typically are not yet enabled to be regarded as a true partner in the care process. MedMij delivers an agreements scheme, in order to enable patients to become that true partner.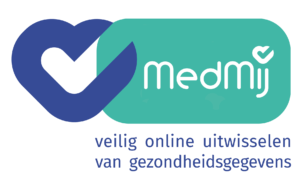 2. ISO 27001. This standard is an internationally recognised security and risk management framework. It includes structures for the design, implementation, and administration of an Information Security Management System (ISMS). Please find the certification PDF report here.

3. the NEN 7510 security standard. To ensure that your medical data is stored securely, the NEN (Dutch Standards Institute) has created. Please find the certification PDF report here.