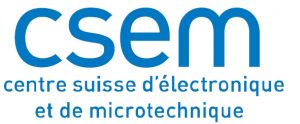 INNOVATION AND SUSTAINABLE PROGRESS
CSEM is a private, non-profit Swiss research and technology organization focused on generating value for a sustainable world.
Together with MEDrecord we develop new wearables in the healthcare domain.
More information: Website CSEM
MEDredord is relentlessly spurring innovation in healthcare. That's why we are involved in several international state-of-the-art projects, which will all result in useful digital products in the near future. The following projects are in collaboration with CSEM.