Digitization has permeated virtually every part of our social and business worlds and the healthcare sector is no exception. Every day we use fitness trackers to check our pulses and burnt calories while working out, or set  reminders to drink more water on our smartphones and listen to a calming meditation before going to sleep. But these applications are only the tip of the iceberg, and the potential for digital applications in the healthcare industry is enormous. In this article, we'd like to show you the potential of HealthTech, and demonstrate that building healthcare applications can be simple, well-organized, and more affordable than you might have anticipated (with a little help of course).
The current state of the healthcare apps market and its tendencies (growth)
The global HealthTech apps market size has been valued at USD 40.05 billion in 2020 and is expected to grow at a compound annual growth rate (CAGR) of 17.7% from 2021 to 2028. 
Why is the healthtech market so valuable? Special medicine and health tracking apps and software can be used for completing routine tasks in hospitals (like scheduling appointments, monitor patient measurements, check medical histories), help with diagnostics and preventive medicine (requesting and conducting diagnostic tests) , in pharma and biotech industries, and more. Here are some of the top technologies in healthtech that are driving change in the healthcare industry:
Who benefits from the development of Health Technology?
According to a report by the World Bank and the WHO, 50% of the world's population does not have access to medical services. Modern technology has the potential to revolutionize healthcare and provide all patients with access to trained physicians. 
We, at MEDrecord, are confident that the development of healthcare and medical apps is now more relevant than ever. Depending on the industry and technologies used, healthcare apps can do a lot of things: track vital health indicators, remind patients to take medicine, schedule appointments with doctors (both online and offline), connect patients to make their social lives easier, help in early disease detection, task management systems for clinics, and more. 
Let's examine which medical apps are popular and why: 
Thanks to the many different sensors on modern smartphones and wearable devices, patients can share health-related data with doctors, making diagnosis easier, faster, and more accurate.
For example, the Novoic solution uses comprehensive speech analytics for the detection of Alzheimer's, dementia, stroke, and other neurological diseases.
Convenient data processing
Keeping patient records in an electronic form greatly simplifies the work with patient data, allowing, if necessary, to exchange information with other attending physicians easily.
Zebra Medical Vision company provides radiologists with a solution that uses data to interpret the scans into actionable insights and integrates AI results into real-time reporting. 
Remote patients treatment and improving patient care
Social distancing became more important in 2020 when humanity had to cope with the COVID-19 pandemic. For example, last year in England more than 7000 GP surgeries across the country have been advised to reduce face-to-face appointments, and that's reverted huge numbers of patients go digital. 
Remote care apps allow clinicians to see patients faster while avoiding queues and unnecessary social contact. 
Some solutions can be helpful for patients to check out several symptoms without leaving home. For example, the Hyfe app monitors types of cough to detect possible illnesses and the Curex application offers online allergy testing and online doctor consultations. In this way, clinicians can help patients without a personal visit, which saves time and allows patients not to waste energy on visiting the clinic, but to focus on recovery. 
By including critical features like video calls, users and doctor profiles, symptom checkers and biomarker analysis, and others, developers can improve the chances that their solutions will be adopted by users and practitioners, but what do these features cost to develop?
The average cost of building a healthcare application
Since these types of applications promise to be a good business opportunity, it's important to understand what scale of investment is needed to get into the health technology business. 
On average, how much should you expect to invest in developing a compliant and functional health application and how will you need to direct the funds?
According to new research data, developing a health tech solution from idea to launch can cost about €350,000. To form a development team, you need to hire iOS /Android/Cross-Platform developers, back-end and front-end developers, a project manager, a business analyst, UX/UI designer, and Quality Assurance specialists. Here's an example of possible development team: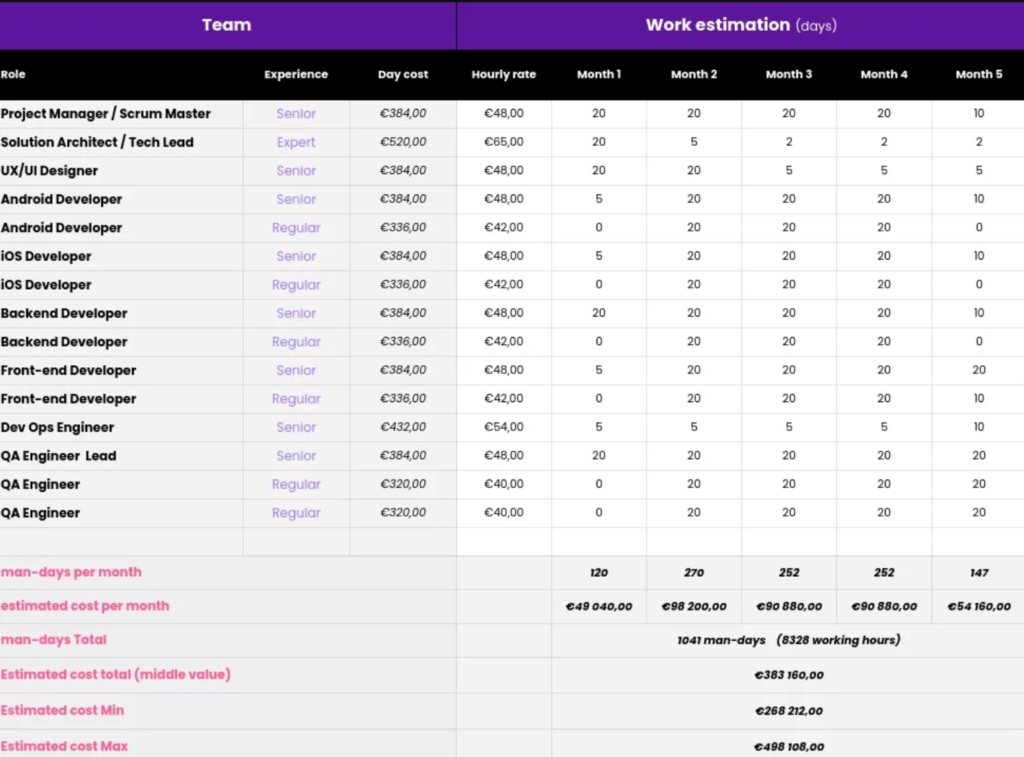 Steps to take before developing an application
There are many nuances to consider when creating a mobile application. We have compiled a list of important steps that will help you go the right way and avoid several mistakes.
Pre-development stage
You are more likely to be successful if the product is unique, interesting, and naturally useful. This is what the most popular healthcare startups are doing. At the pre-development stage,  define the goals and the challenges your application could solve. 
Do the market research first to see which niches are in urgent need of mobile/digital products. For example, if you want to create a new fitness app or water reminder, there's bad news for you: the mHelath market is overwhelmed by health lifestyle apps, so it will be hard work to differentiate your application from well-established competitors. 
Know your target audience. Think of a key region for your app and where it will be available the most. Depending on the region, there could be a huge difference. For example, Europe and Asian regions are much larger mHealth market sectors than in Latin America.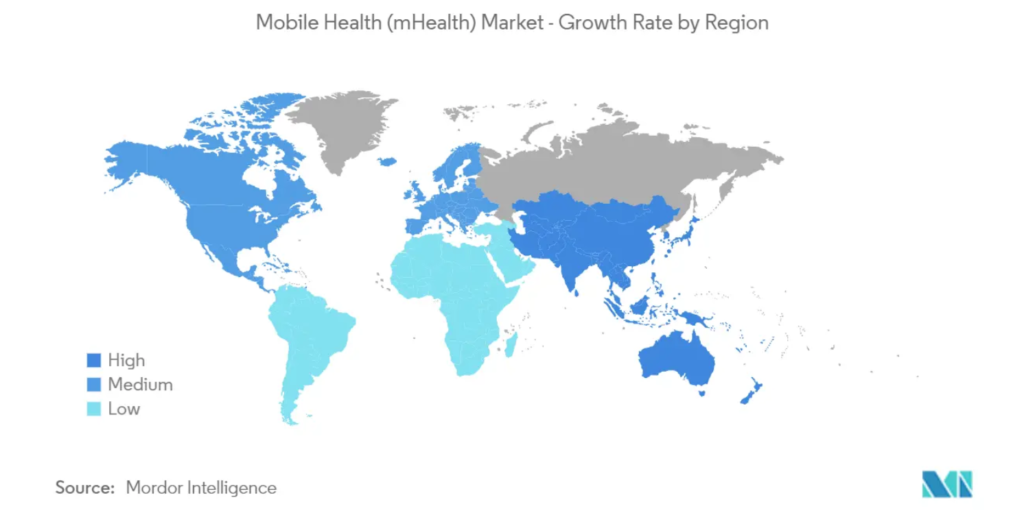 Business plan creation
If you want to reduce risks and get more chances to attract investment, you need to draw up a business plan. Include all important information here: USP, problem analysis and market analysis, marketing strategy, and finance (startup costs, revenue model).
Remember that there's no need to work for an extremely long time to release a perfect and bug-free solution at once. It's much easier to create a minimal viable product first with essential features, and as some time passes, evolve it according to user feedback. 
Think of a monetization model. For a medical app, it could be: 
free, with built-in adds – the app is free for users, but it shows them relevant advertisements/affiliated content;

paid, when some of the features or the whole solution is paid (it's possible to use the subscription model)

Also be sure to consider who needs to pay for the application, is it the patients or perhaps instead the organizations that may want users to sign up? 
Think over UI / UX design
Attractive design is important for any application, but the visual is not the only thing to consider. A stylish user interface should be combined with functionality and ease of use to provide a good user experience. 
Note that design is for users, so it's essential to optimize user journey inside the app and minimize the number of actions users need to take for a result. Make the design adaptive, so that it's possible to use it via different platforms. 
Think of Data Security
Since doctors work not only with complex, but also confidential data, it is extremely important to protect the privacy and security of information stored in medical applications. Be sure that you use safe APIs that protect patients' data. Protection should not only defend against possible break-ins but also work under the requirements of current legislation, depending on a region (GDPR, HIPPA, CCPA, PIPEDA, or others).
Clearly, it can take a lot of groundwork to get an eHealth application off the ground.
There are dozens of possible opportunities and it can sometimes seem daunting to have to overcome all of the challenges that you may face. But you don't need to start from something large-scale to get into the medical innovations market. Even the most ambitious and innovative digital trends in the healthcare industry are not necessarily massive in scale and don't need to involve huge teams and enormous spending.
We've been working in MedTech for 20+ years and we have a deep understanding of healthcare marketplace tendencies and of how to deliver value to the end user. MEDecord is also a partner with industry leaders in medical R&D and healthcare on dozens of public and private sector projects. 
We've built an eHealth platform that saves you development time, money, and paperwork. 
The key advantages of the eHealth platform: 
it's certified by ISO27001, NEN7510 and MedMij

Easily integrated with Apple Health Kit+, Google Fit, and over 200 other APIs

Highly accessible and simple to use
We build solutions that have a positive impact on patient care by delivering the right information to doctors easily and securely, being 5 times less expensive and continuously updated. 
For example, we created an innovative tool that connects patients diagnosed with Diabetes with "Buddies" that's already being used to accompany their treatment and helps them adapt their lifestyle and learn from experienced peers.  
Users also receive support from a team of Doctors, Physiotherapists, Coaches, and Nutritionists to help guide them along their journey to better health.
The solution has web and mobile versions both built on MEDrecord's Platform, which accelerated the project's development time drastically- the first patients started using the application within just a few months of starting the project!
Turnkey application development
We can develop an innovative health tech solution from scratch and lead you by hand through all the steps of development and marketing. 
We will help you develop a first-class eHealth solution that boosts the doctor-patient experience. How do we do that? 
We assess your infrastructure to make sure your app will be long-lived and future proof. 

Together with your team, we discuss the idea and problems it might solve, and plan how to deliver the end product with maximum benefit to you and your users. 

When the solution is approved by your team, we develop your solution from A to Z.  

It doesn't matter whether you are a startup or an industry player looking to rapidly deploy and test an innovative eHealth idea. Speak to our team about your project, and we'll be happy to help you make your impact on healthcare.